History
Tiny Tots and Little Tykes preschool program began in 1973. In 1986 the program expanded and the child care center was started at a second location. Both programs relocated to St. Croix Lutheran School in the fall of 1992, where we leased space for over 20 years. We now have our own space at 60 East Marie Avenue Suite 100 in West St. Paul.

Our mission statement is to provide a loving, wholesome, safe learning environment that nurtures each child in his/her social, emotional, and intellectual growth and development, and one that encourages each child to develop a good and accurate self-concept.
Philosophy
Our center is non-sectarian, non-profit, tax-exempt, and open to the public. Your child is invited to participate in the growth and enrichment experiences our programs will provide. Learning activities emphasize language, motor skills, creativity, math and science, perception, socialization, and personal growth. We strive to help our students build a positive self-image.
Programs
Our Child Care program offers care for children ages 6 weeks to kindergarten.
Our Preschool program has two-day-a week or three-day-a-week options for children 3 years old up to kindergarten age.
Our School-Age program offers Before & After school care, non-school daycare & summer camps for children from kindergarten through age 12.
*We use the following curriculums for our programs: High Scope, Everyday Mathematics, Growing, Growing Strong (A Whole Health Curriculum), MN Project Learning Tree (Nature), Handwriting Without Tears, High Scope Letter Links, & RedRover Readers.
Facilities
We have a secure entry way to our center. We have seven exceptionally clean classrooms, divided by age and overseen by teachers who are CPR, First Aid, SUIDS and AHT certified. Our general-purpose room or "large muscle room" is a place for children to exercise and participate in special events.
We have a large, fenced playground area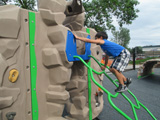 with the newest equipment certified by the Playground Safety Inspector.
Our children enjoy frequent resource events, enrichment classes, and fun events for the whole family!
Licensing and Acceditation
Our program is licensed by the State of Minnesota through the Department of Human Services. We are licensed for 150 children, including 12 infants, 40 toddlers, 70 preschoolers, and 28 school age children.
Within the structure of this licensure, the preschool program is set up for 40 students aged three to five years. The preschool program operates differently than the child care center.
We are accredited through the National Early Childhood Program Accreditation (NECPA) to ensure we can offer the highest quality care. As a NECPA accredited program, we have maintained our place among a select group of early childhood education centers nationally distinguished by our quality, our commitment to young children, and our dedication to excellence.