Our experienced teachers teach the children readiness skills such as: following directions, recognizing letters and numbers, and socialization in a fun learning environment. The day is structured in 20-minute increments focusing on helping children develop the skills needed for kindergarten.
The preschool curriculum encompasses our Philosophy and Goals using activities such as: Featured Child, Letter of the Week, Journaling, Music & Movement, and Exploring the Natural World, including a S.T.E.M. focus.
Curriculums included in our Preschool program are:
*Everyday Mathematics which includes problem solving in everyday situations, uses hands-on activities, practices content (numbers, operations, data, geometry, patterns, functions, etc.).
*Growing, Growing Strong a whole health curriculum that teachers use to assist children in learning a healthy lifestyle.
*LANA (Learning About Nutrition Through Activities) with the goal of helping young children learn to taste, eat and enjoy more fruits and vegetables in order to promote good health.
*Conscious Discipline provides an array of behavior management strategies and classroom structures that teachers can use to turn everyday situations into learning opportunities.
*The High Scope Preschool Curriculum where active learning is its core component, but it also encompasses assessment, adult-child interaction, daily routine, and learning environment.
*The Letter People and Develop Inspire Grow (DIG) which is a thematic integrated instruction centered around science, social studies, daily math concepts, and a meaningful literacy program incorporating oral development and 26 hands on letter people puppets.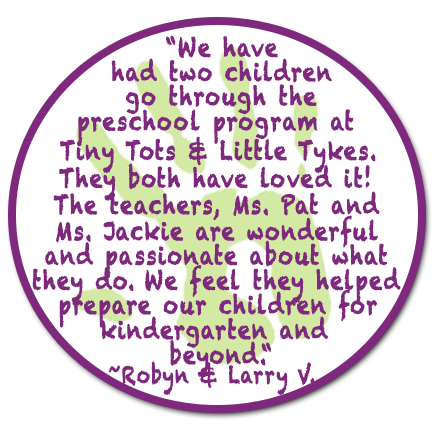 We believe children learn best when they are in a safe welcoming environment.
Preschool goals are: Language Literacy, Mathematics and Science, Friendship Skills, Self Help Skills/Fine Motor, and Creative Expression.
Information on days, hours, and rates can be found on our Preschool Program Rates Page.
Resources:
Early Childhood Screening
Kindergarten Readiness Checklist
Help prepare children for success in kindergarten by signing up for ParentPowered Texts through Think Small
Want more information?
Get in touch with us at
tinytots@ttlt.org